On December 8, 2022, Our president, Ando, conducted an online lecture.
[Ennichi]
Towards a society overflowing with empathy
A place to encounter new ideas and people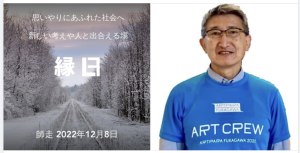 Organizer: (General Incorporated Association) Anyone Can Be A Lifesaver
Date: December 8th, 2022 (Thursday)
Time:19:00~20:30
Theme: Methodologies for constructing an inclusive urban environment.
Participation fee: Free
Venue: Online
Details: https://www.lifesaver.love/meeting
Apply here: Entry form
*This event is conducted exclusively in the Japanese language.