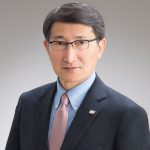 Institute of Global Medical and Sports Science Japan, Inc
President Yuichi Ando, M.D., Ph.D.
I would like to extend my best wishes for the beginning of the year 2022 and also would like to express my heartfelt sympathy to those who have encountered sorrow and difficulties due to the prolonged onslaught of the new coronavirus.
The Sustainable Development Goals (SDGs) were adopted at the United Nations Summit in 2015 (the same year that our company was founded), but I feel that humanity is always being tested for sustainability by such issues as new coronavirus infections and global warming. In other words, it is incumbent on us to "do our best to take the best measures" to deal with the challenges ahead of us.
Thanks to your support, our company has entered its seventh year, and despite the COVID-19 pandemic, we had a number of valuable experiences in 2021, such as giving a lecture at an online international conference, creating a manual for sports clubs on how to deal with the new coronavirus, and holding a discussion with Chiaki Hayakawa, who is actively engaged in helping children in slums of Kenya.
In addition, we held five online seminars, Sport Hug Cafe, in collaboration with Yuko Shimazawa and Tadao Fukushi, and launched a platform "The Playbook for Tomorrow's Sports Environment" by the Sport Hug Cafe participants. I would like to express my heartfelt gratitude to all of you for your guidance and cooperation.
In 2022, we will continue to do our best for the health of people and healthy society with keywords such as medicine, health, welfare, education, sport, art, and well-being. I look forward to your continued support and guidance in the coming year.
I sincerely wish you all the best for your health and happiness.
January 2022
Memberships and Affiliations
Qualifications
Professional Background
1987
Graduated from School of Medicine, University of Tsukuba
Mitsui Memorial Hospital, Department of Surgery, Resident
Massachusetts General Hospital (U.S.A.), Research Fellow
Princess Alexandra Hospital (Australia), Transplant Fellow
The University of Tokyo, The Institute of Medical Science, Department of Surgery and Bioengineering, Assistant professor
Médecins Sans Frontières (Cote d'Ivoire, 2004 / Osaka, 2006), Executive Director
2004〜2015
2015〜2021
International SOS, Medical Director
International Budo University, Adjunct lecturer)