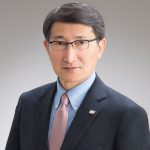 Institute of Global Medical and Sports Science Japan, Inc
President Yuichi Ando, M.D., Ph.D.
As we commence the year 2023, we extend our most sincere greetings.
Though the ramifications of the novel coronavirus are still palpable, it is heartening to see that opportunities for genuine interaction are gradually increasing. (However, please do not let your guard down and continue to exercise caution.) Conversely, it is deeply distressing to know that there are individuals around the world who are facing adversity as a result of war.
As for 2022, in addition to my responsibilities as an industrial physician and sports doctor, I had the privilege of participating in academic presentations, engaging in discourse with Dr. Yasuhiro Miyoshi, who is an accomplished figure in Africa, publishing books, performing in online live shows with Mr. Takaomi Matsuo, giving speeches at "Nabeshima Sonjuku" and "Ennichi", and engage in activities such as "Sport Hug Cafe".
In 2023, in addition to my traditional responsibilities as an industrial physician and sports doctor, I am scheduled to collaborate in events such as the Future of Physical Education Co-creation Summit and the Japanese Society of Public Health (Tsukuba City). Furthermore, I will also be initiating the "Smoking Cessation Supporter" program. Through these endeavors, I aspire to advance towards a society where everyone can live with vitality and good health.
I would be grateful for your continued support this year as well.
We implore for the health and peace of people all over the world
January 2023
Memberships and Affiliations
Qualifications
Professional Background
1987
Graduated from School of Medicine, University of Tsukuba
Mitsui Memorial Hospital, Department of Surgery, Resident
Massachusetts General Hospital (U.S.A.), Research Fellow
Princess Alexandra Hospital (Australia), Transplant Fellow
The University of Tokyo, The Institute of Medical Science, Department of Surgery and Bioengineering, Assistant professor
Médecins Sans Frontières (Cote d'Ivoire, 2004 / Osaka, 2006), Executive Director
2004〜2015
2015〜2021
International SOS, Medical Director
International Budo University, Adjunct lecturer)